About IFAC and the World Congresses:
22nd World Congress in Yokohama, Japan, 2023
---
IFAC 2017 Photos
Several conference photos are available via the following flickr link:
https://www.flickr.com/photos/ifac2017/albums
Shall you use these, do not forget to credit the photographers
The Copyright goes to ©CNRS/IFAC2017.
Photos can be used for personal purpose. No commercial usage is allowed.
Contact us for any question regarding these pictures. 
---
IFAC 2017 Registration
---
IFAC 2017 Call for Papers
---
Key dates of the IFAC 2017 World Congress
dates
 
29 October 2015
PaperCept submission site opens
15 September 2016
Open invited tracks submission deadline
15 October 2016
Invited sessions submission deadline
31 October, extended to 8 November
and then to 11 November 2016
IFAC-standard papers submission deadline
30 November, extended to 7 December 2016
Workshops, tutorials and extended abstracts submission deadline
29 December 2016
Registration opens
20 February, postponed to 24 February
and then to 27 February 2017
Notification of acceptance
31 March, postponed to 7 April and then to 10 April 2017 because of last minute registration system breakdown
Final paper submission (papers can be uploaded only after the payment of the registration fee)
15 April 2017
Early registration rates expire
8-9 July 2017
Pre-Congress Tutorials and Workshops
9-14 July 2017
20th IFAC World Congress
---
Communication tools
The call for papers prospectus.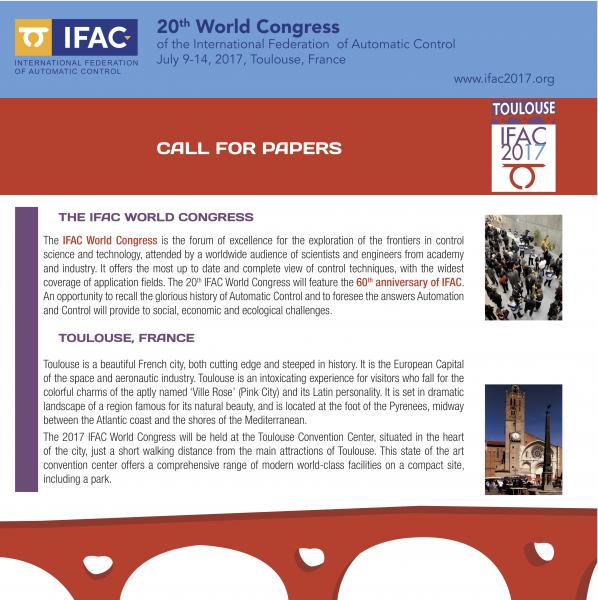 The call for demonstrator papers prospectus.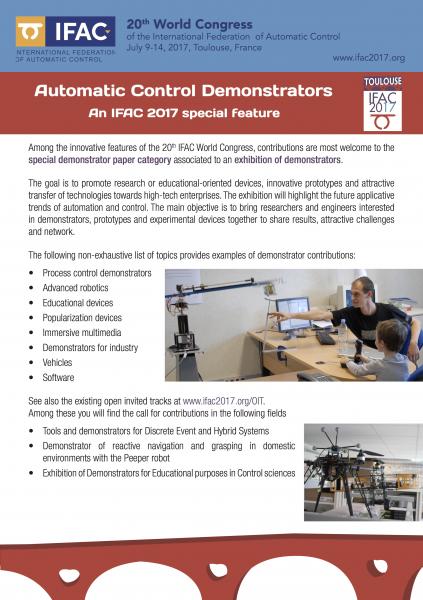 The 335x479 size IFAC'2017 logo
and the .eps version.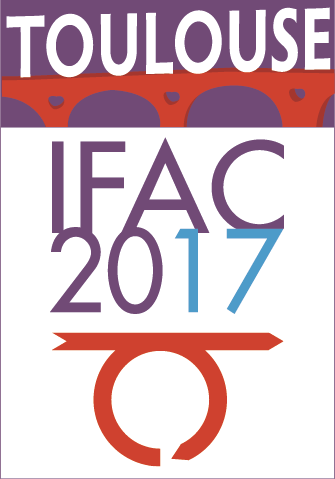 The IFAC'2017 banner
and its .eps version.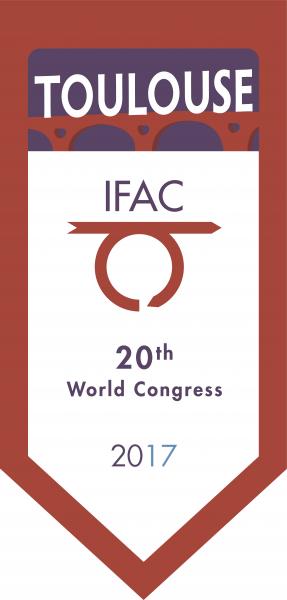 The Sponsorship and Exhibitions prospectus and related documents: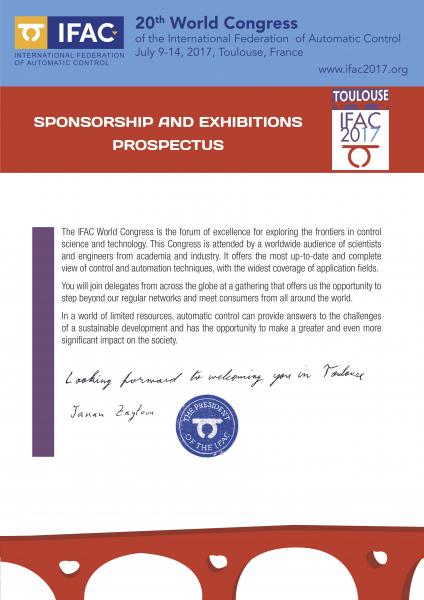 The flyer and bookmark edited in July 2014 to be distributed at IFAC 2014 world congress and following events.
---
Documentation about the French proposal to host IFAC 2017 in Toulouse
Documentation transmitted to the IFAC council for the meeting of July 2, 2010 in Baltimore.