Pierre Baudis Congress Center
The Congress Center building consist of 6 levels. Most of the session rooms are in this building or in the Hotel Mercure building which is directly connected to it.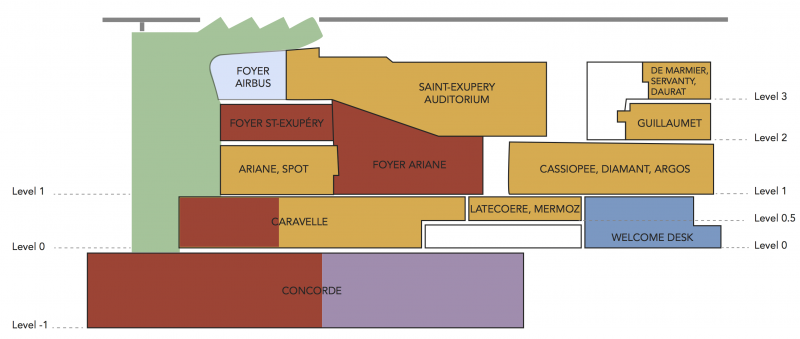 Access to the Congress Center is done only through the entrance hall on Level 0. At this level one may find:
The Welcome Deck - where Congress Badges can be retrieved
A secured Luggage Storage
The Caravelle rooms - where the interactive sessions take place and where coffee breaks are held at 9:30 and 15:30.
Connection to Hotel Mercure rooms - Lourdes, Pic du Midi, Gavarnie, Toulouse, Conques, Cordes.
Lifts to all possible levels - pay attention that each of these provides access only to some specific levels.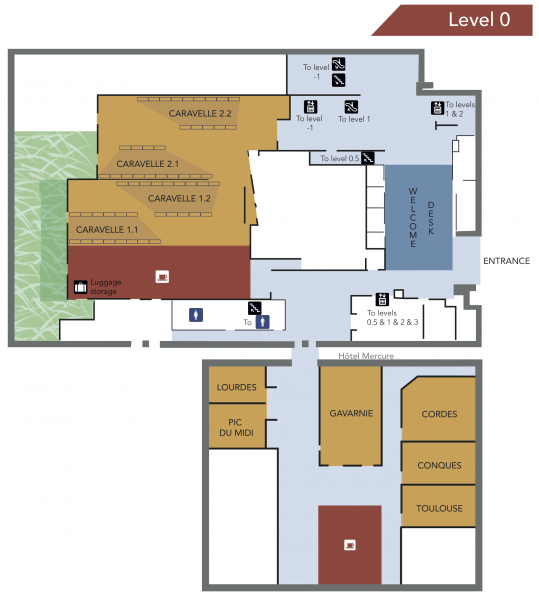 The main exhibition hall is situated at Level -1. At this level one can also find the stand of our partner for Tourism.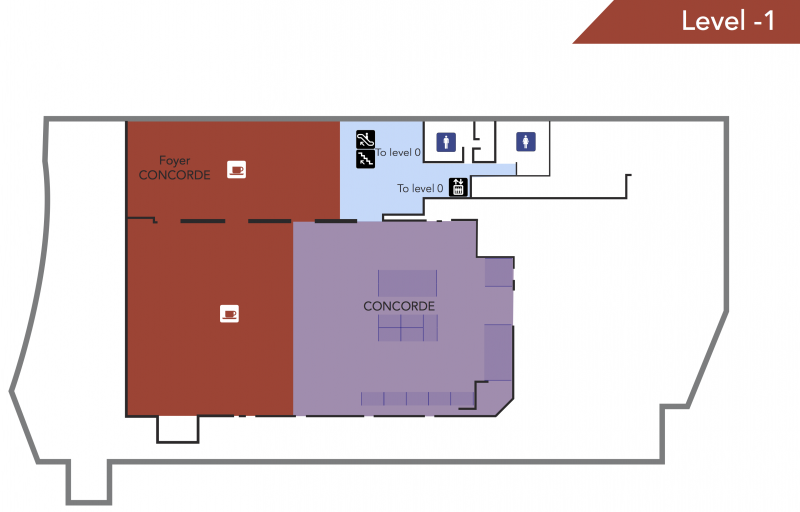 An intermediate Level 0.5 hosts:
Sessions rooms - Latécoère and Mermoz
The Armagnac Bar
At Level 1 are the sessions rooms Spot, Diamant, Ariane 1, Ariane 2, Cassiopée, Argos. Coffee break is held at this level at 9:30 and 15:30.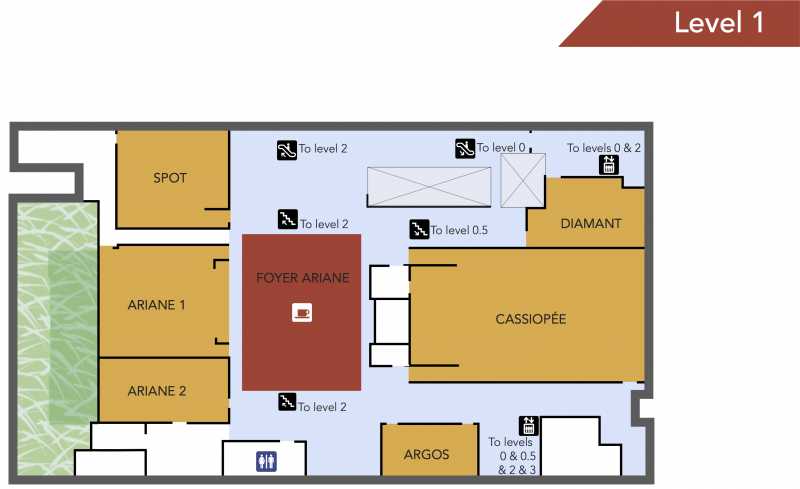 At Level 2 are the sessions rooms Guillaumet 1 and Guillaumet 2, as well as the access to the lower part of St Exupéry Auditorium. Coffee break is held at this level at 9:30 and 15:30.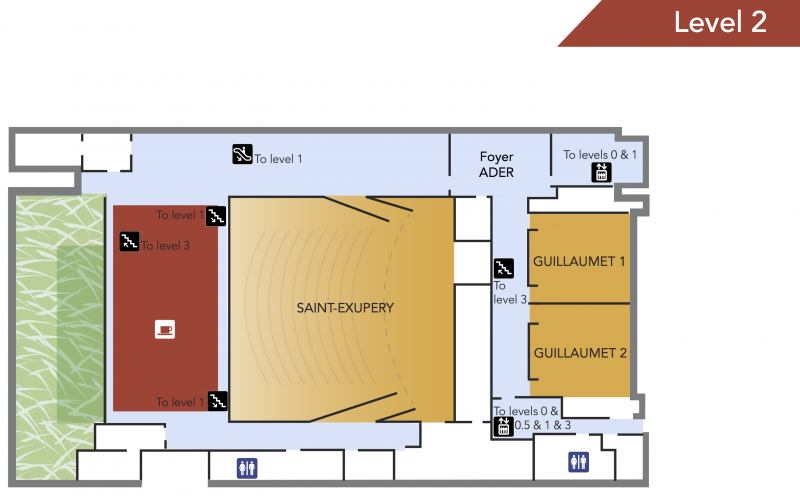 At Level 3 are the sessions rooms De Marnier, Servanty and Daurat, as well as the access to the upper part of St Exupéry Auditorium. Mind that there is no connection between the halls Foyer Daurat and Foyer Airbus.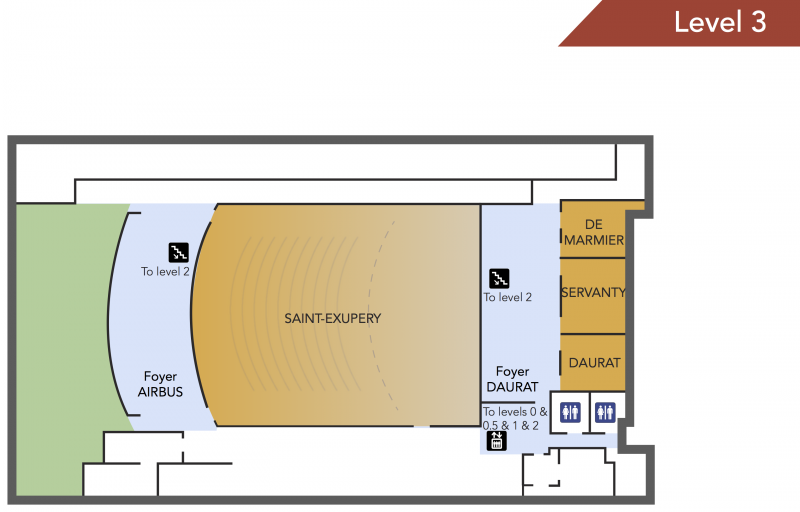 Palais des Sports Multi-purpose Arena
The Palais des Sports main building hosts the opening and closing ceremonies, as well as the plenary sessions. Delegates are invited to occupy all levels of the arena during the ceremonies and plenary sessions. Multiple doors give access to the Level 0 of the arena. From there the delegates can go down to the arena floor. Stairs in the outer corridor give access to the upper level of the arena.
Mind the path (dotted line) that brings to the stairs going down to the session rooms.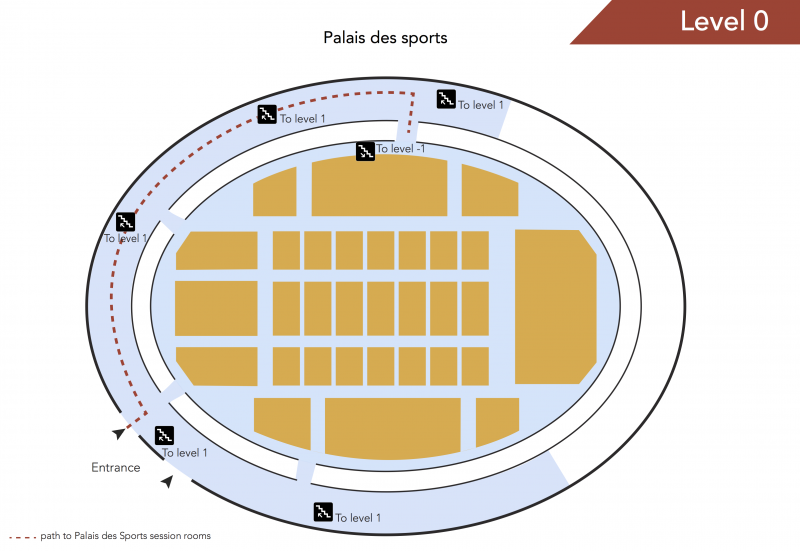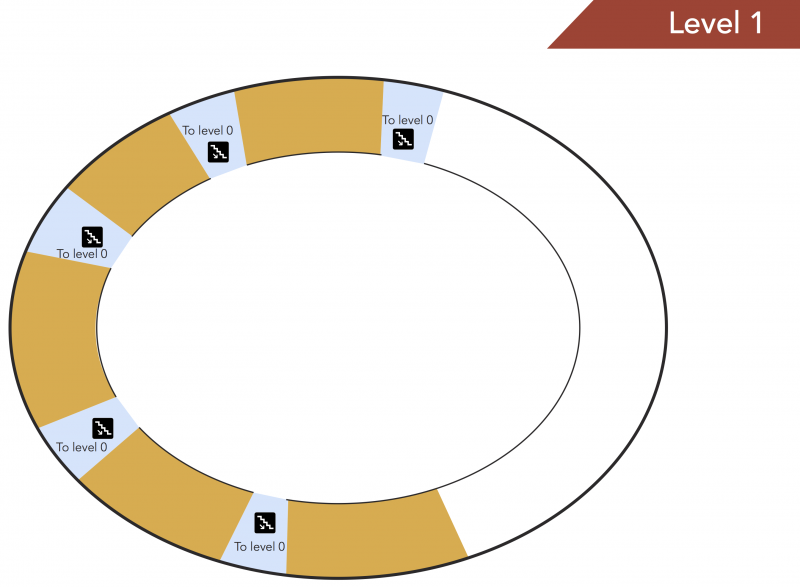 Level -1 of the Palais des Sports hosts the Handball room where are held the demonstrator sessions, the Volleyball room with coffee break, the sessions rooms Football, Basketball, Rugby and Hockey, as well as the secondary arena Petit Palais des Sports where on Friday will be held the Mini-UAVs demonstrator sessions.